1 min ago
11,000 people leave besieged Mariupol, as Orthodox priests accompany buses through Russian-occupied territory
From CNN's Mariya Knight and Marina Marukhnych
Eleven thousand people left the southeastern city of Mariupol en route to Zaporizhzhia on Wednesday, according to a post on the Telegram channel of Mariupol city council, marking another increase in the number of residents able to escape the besieged city.
For people able to make it as far as Berdyansk in their own cars but unable to drive further, fifteen buses were supplied to complete the journey and Orthodox priests accompanied the buses, the council said.
By Wednesday evening, officials said more than 6,400 Mariupol residents had made the journey through Russian-occupied territory to Zaporizhzhia, which is still in Ukrainian hands. More than 2,000 children were among them.
The humanitarian convoy to bring aid into Mariupol, and empty buses to evacuate residents, remains blocked by Russian forces, officials said.
14 min ago
"Children" was spelled out on two sides of Mariupol theater before bombing, satellite images show
From CNN's Paul P. Murphy
New satellite images from Maxar Technologies show that on Monday, the word "children" was spelled out outside the theater that the Mariupol City Council said was bombed on Wednesday.
The City Council said that on Wednesday that Russian forces had "purposefully and cynically destroyed the Drama Theater in the heart of Mariupol. The plane dropped a bomb on a building where hundreds of peaceful Mariupol residents were hiding."
2 min ago
NATO "not as essential" as no-fly zone, Ukraine's deputy prime minister tells CNN
From CNN's Sam Kiley and Bex Wright in Kyiv
Olha Stefanishyna, deputy prime minister for European and Euro-Atlantic Integration of Ukraine, told CNN on Wednesday that President Volodymyr Zelensky's address to the US Congress didn't mention NATO because that is "not as essential" as a no-fly zone and weapons – and political aspirations will have to go on hold for now.
CNN's Sam Kiley spoke to Stefanishyna remotely from a secure hidden location in the Ukrainian capital Kyiv on Wednesday, following Zelensky's address.
"I think that NATO is something which is not as essential as a no-fly zone and more weapons and basically, capability to defend ourselves," she said, "but now basically it's not about politics, it's about survival."
Stefanishyna said Putin is failing in the war because "the chain of command which disinforms him, and the senior management around, shows that they know nothing about our nation."
"I'm absolutely sure that he's uncomfortable in every moment that he's sitting in his bomb shelter," she said, adding, "he fails in each of his assessments."
She also responded to how she feels about her government being effectively driven underground, saying that "we feel ourselves as one with Ukrainian people and we suffer and cry the same with the death of every child and citizen of Ukraine."
Stefanishyna told CNN she has faith in her country's military — and the unity and fearlessness of the people — to overcome Russia's aggression in this conflict, but she added that it's the "responsibility" of Western leaders to provide security guarantees, together with Russia.
"Security guarantees in a broader format are essential to us," she said
"What we want is to live peacefully on our land in a democratic way, that we are know how to do it, all the rest of it doesn't matter that much. We are already part of European family. We're already part of the political European family."
21 min ago
It's 10 p.m. in Kyiv. Catch up on the latest developments. 
From CNN staff
A theater where hundreds of people had taken shelter in Mariupol was bombed on Wednesday, according to local authorities, as hundreds of thousands of people remain trapped in the coastal Ukrainian city that has been encircled for weeks by Russian forces.
Mariupol City Council, who shared an image of the destroyed building, said Russian forces had "purposefully and cynically destroyed the Drama Theater in the heart of Mariupol."
CNN has geolocated the image and confirmed it is of the theater. Videos showed a fire raging in the theater's ruins. The number of casualties is unknown, authorities said.
Here's a catch up of key developments that have unfolded today:
52 min ago
US defense official: Russian forces have not made "any significant advances" towards Kyiv
From CNN's Ellie Kaufman
Russian forces are still "generally stalled" near Kyiv, Ukraine, and have not "made any significant advances" towards the city from the north, northwest or east of the city, a senior US defense official told reporters Wednesday 
Russian forces to the east of Kyiv are still about 30 kilometers (about 18 miles) away from the city's center, the official said.
"The bottom line is they haven't made any appreciable progress coming to the east," the official said.
Ukrainians are still in control of Brovary. Chernihiv remains isolated, but the US is seeing Ukrainians "trying to develop lines of communication to the south and with some success," the official said. 
There has been no "apparent progress in or around Kharkiv" by Russian forces, the official said.
Mariupol also remains isolated by Russian forces, the official added.
In Mykolaiv, Ukrainians continue to defend the city. Russian forces are still outside of the city "mostly to the northeast," about 10 to 15 kilometers (six to nine miles) away, the official said.
58 min ago
State Department spokesperson: US welcomes "sentiments" of hope about diplomacy, but Russia must de-escalate
From CNN's Jennifer Hansler
The United States welcomes "the sentiments expressed that there is hope, that there is optimism for diplomatic progress," but believes Russia must de-escalate for any such progress to actually be achieved, State Department spokesperson Ned Price said.
"What Ukraine needs now more than sentiments, more than hope, more than optimism is de-escalation, is an end to the violence, is a tangible indication that President Putin is changing course. And that is something we have not yet seen," Price said at a State Department briefing Wednesday, referencing "more horrifying reports of shelling, of destruction of what appeared to be civilian sites across Ukraine, including in Mariupol."
Asked about potential neutrality commitments or other guarantees that could lead to a cessation of the war, Price said it was "not a question for us regarding what might lead to a ceasefire, a diminution of violence between Ukraine and Russia."
"This is ultimately a question for our Ukrainian partners to decide, to decide the terms of diplomacy, what they are willing to pursue, what they are not willing to pursue," Price said.
He said such an issue was "really at the heart of this conflict." Adding, Russia is "waging this war precisely because they sought to deprive Ukraine of its sovereign rights, its sovereign right to determine its own foreign policy, its sovereign right to determine its own Western orientation, its sovereign right to choose its own partners and alliances."
"So as part and parcel of that it is not for us to set the terms by which Ukraine and Russia may be in a position to reach an agreement that we all hope could diminish the violence. That is for Ukrainian to decide. We will be standing by our Ukrainian partners, assisting them with the diplomacy as we know a number of our allies and partners around the world are doing but these are questions for sovereign state of Ukraine," Price said.
30 min ago
Public swimming pool used as civilian shelter in Mariupol hit by Russian military strike, local official says
From CNN's Paul P. Murphy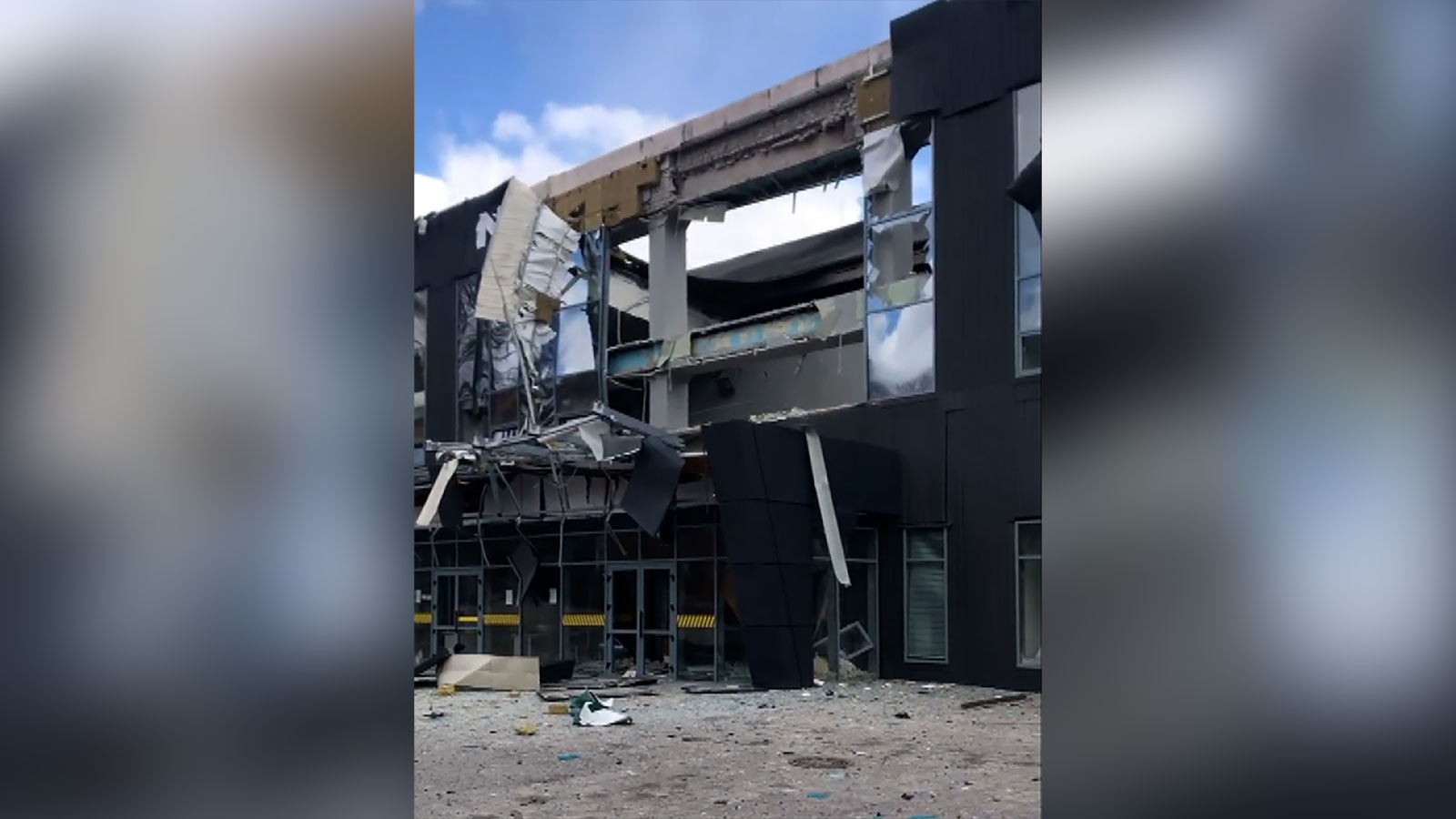 The building that houses the "Neptune" swimming pool in northern Mariupol has been hit by a military strike Wednesday, video posted to social media by a city government official shows.
CNN has geolocated and confirmed the authenticity of the video.
Maxim Kach, a Mariupol city government official, said that​ a bomb hit the building and that rescue workers were busy trying to get a pregnant woman out from under the rubble.
"Here there were only pregnant women & women with kids under three years old," Kach said in the video.
Kach ​also said there were no military ​personnel at, or near, the pool. 
The pool is roughly 2.5 miles, or just over four kilometers, north from where a military strike destroyed a theater being used as a shelter earlier on Wednesday.
CNN could not immediately verify Kach's claims that there was a woman buried under the rubble.
39 min ago
US defense official: "Increased naval activity" from Russian ships in Black Sea near Odesa
From CNN's Ellie Kaufman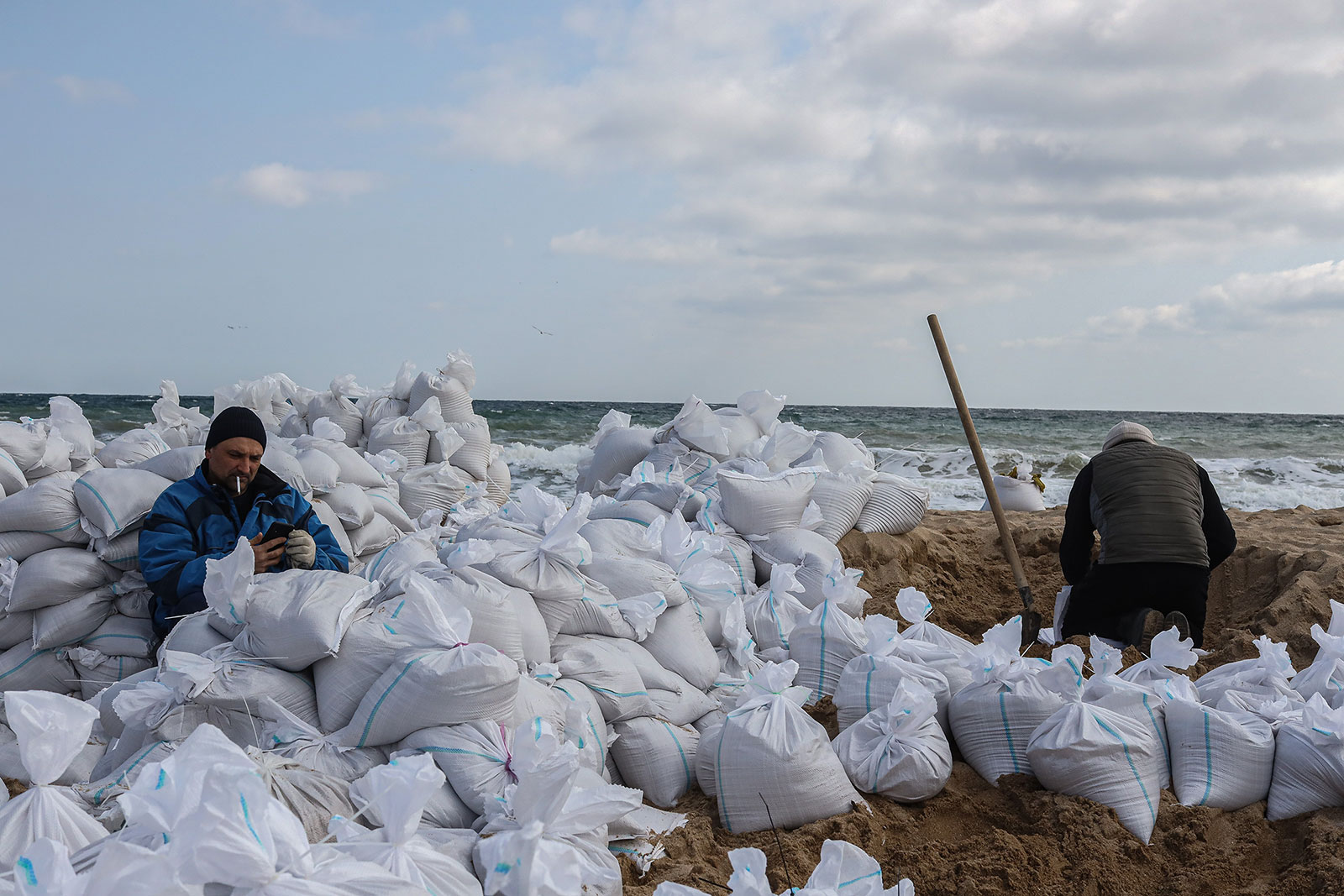 The US has observed "increased naval activity" in the northern Black Sea from Russian forces there, a senior US defense official told reporters on Wednesday. 
"We also have observed on our own the shelling of some cities, some towns outside Odesa, near Odesa," the official said.
The shelling is not in Odesa, but near Odesa, the official said. The shelling, the US believes, is coming from Russian warships in the Black Sea, the official added.
"We believe these are again from Russian warships in the Black Sea," the official added. "There does appear to be naval shelling in places near Odesa."
47 min ago
President Biden calls Putin a "war criminal"
From CNN's Sam Fossum and Kevin Liptak
US President Joe Biden called President Vladimir Putin a "war criminal" on Wednesday as Russia intensifies its attack on Ukraine.
"I think he is a war criminal," Biden said. 
Some more context: Biden's designation reflects a shift from the administration's previous stance. Officials, including Biden, had previously stopped short of saying war crimes were being committed in Ukraine, citing ongoing investigations into whether that term could be used.
But officials have been clear they believe atrocities are underway and that the intentional targeting of civilians would constitute war crimes.
"The President's remarks speak for themselves," press secretary Jen Psaki said afterward. She said Biden was "speaking from the heart."
She said the ongoing investigation at the State Department into war crimes was still underway. 
"There is a legal process that continues to — is underway, continues to be underway at the State Department. That's a process that they would have any updates on."
When pressed on this by a reporter later in the briefing, Psaki said, "He was answering a direct question that was asked and responding to what he has seen on television. We have all seen barbaric acts, horrific acts by a foreign dictator in a country that is threatening and taking the lives of civilians — impacting hospitals, women who are pregnant, journalists, others and I think he was answering a direct question."
Biden initially said "no" when asked whether Putin was a war criminal, but returned to a group of reporters immediately to clarify what had been asked. When asked again whether Putin was a war criminal, he answered in the affirmative.