Whether you are hopping on a plane to Kuala Lumpur or Male, set pulses racing with these trendy fashion ensembles.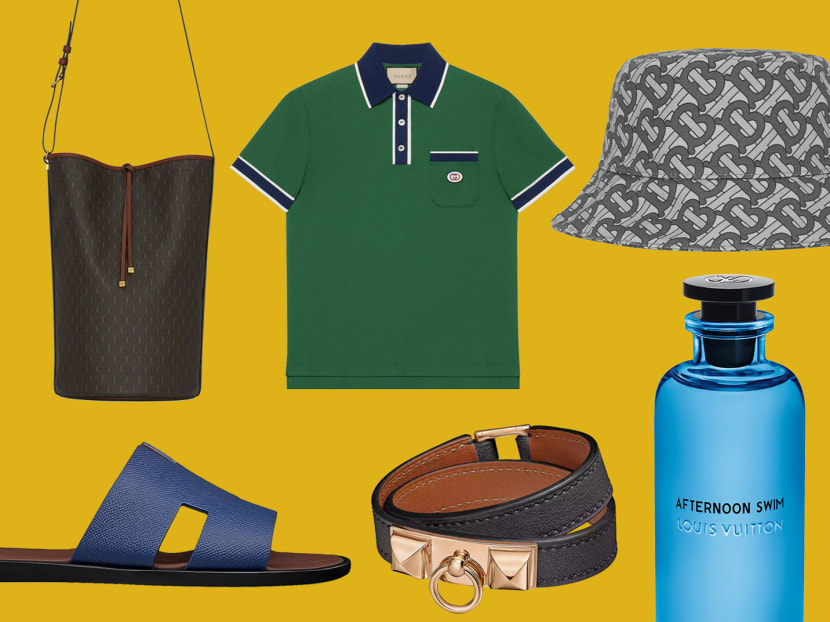 There is no question that Singaporeans love to travel, and while the recent announcement of the Vaccinated Travel Lane (VTL) freeze from Dec 23 to Jan 20 might have thrown a spanner in the works, there are those who are forging ahead with their travel plans.
Whether you've booked a beach luxe getaway in Fiji to switch off, or a transcendental cultural immersion in Cambodia, or simply just indulging in an eating spree in Malaysia, there's no reason not to be upbeat.
While it is wise to remain cautious, there is no reason not to open up our wallets. And that includes fattening up our dated wardrobes with the best and latest vacation threads. So relax and let luggage space be the only thing you have to worry about.
BAGGAGE ALLOWANCE
The great thing about packing for a beach vacation is that everything essential tends to be lightweight, so even a week's sojourn in Fiji doesn't require more than a carry-on. One of the best travel bags around, this Keepall Bandouliere 55 from Louis Vuitton is part of the Everyday LV capsule. Made from Vintage Monogram canvas on which the Monogram pattern is reminiscent of the stamping technique, it features designer Virgil Abloh's "louis vuitton!" signature, which is inspired by the ubiquitous branding of chain stores.
For daily excursions whether you're exploring Siem Reap or Colombo, guys can count on this Low Robin Bag from Burberry. Sculpted from natural grainy calf leather with a semi-matte finish, the unobtrusive slim design is punctuated with a Thomas Burberry Monogram clasp and perfectly sized to hold essentials like your wallet and sunglasses.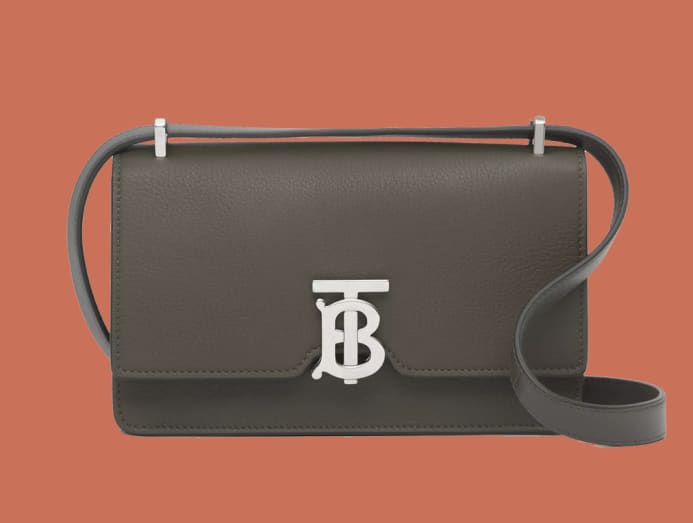 Ladies on the other hand can opt for the Le Monogrammed Bucket Bag from Saint Laurent. Crafted from canvas and calfskin leather in a gorgeously dark chestnut colour, it has a cord tie closure with adjustable leather strap. The best part is that it manages to be voluminous without being bulky, so there's plenty of space to throw in the souvenirs you pick up along the way.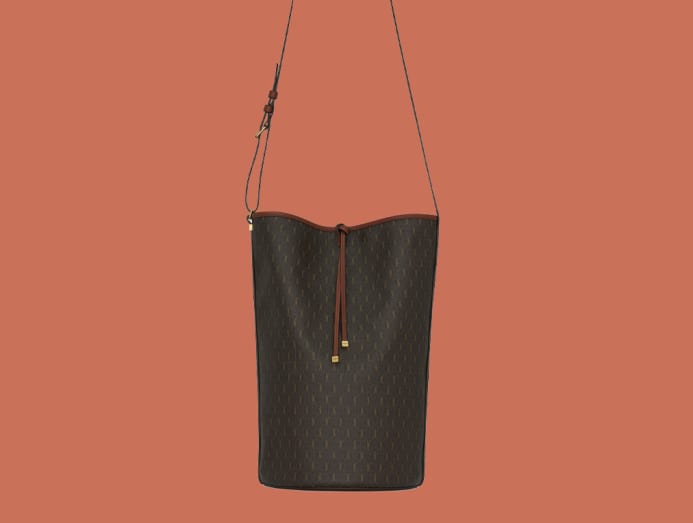 ACTION ACCESSORIES
We imagine that nothing smells more like a seaside holiday than a fragrance that's literally named Afternoon Swim. Featuring key notes of Bergamot, Mandarin, and Ginger, this refreshing scent from Louis Vuitton feels like cool, crisp waves crashing on your body on a searingly hot day. Wear it and nothing else while you soak up the rays at your floating Maldivian private villa with just a couple of Mai Tais and satay sticks – and of course, your significant other – for company.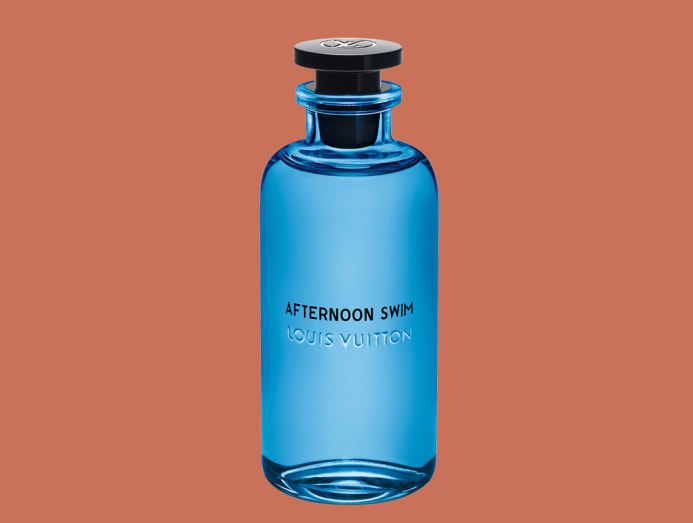 And while you're sipping on your midday cocktail, keep the sun out of your eyes with this Nylon Bucket Hat from Burberry that is highlighted with a graphic monogram print. Because while a bronzed tan is enviable, you don't want to risk your face looking red like a beetroot in all your holiday snaps.
Wrist candy always works when you're on a vacation, because nothing says you've switched off like replacing your watch with a leather bracelet. This classy Rivale Double Tour bracelet from Hermes features two rose gold plated Medor studs and a ring on a double-tour calfskin leather strap and is a perfect accoutrement to both casual and formal wear.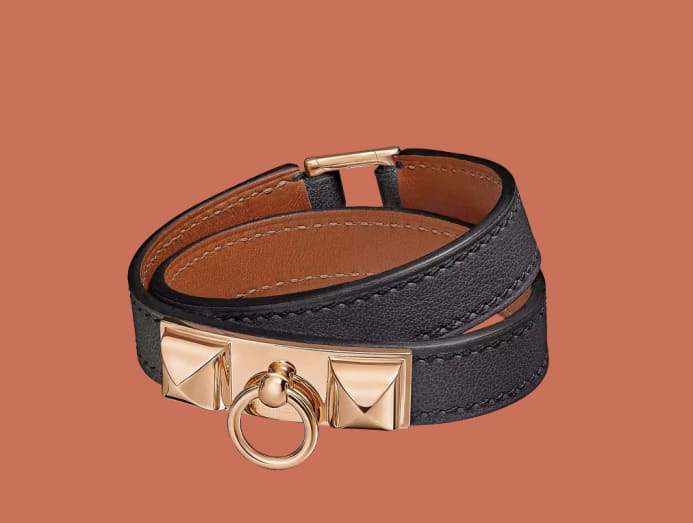 However, if you are the type who needs to keep your eye on the clock (so as not to miss the hotel bar's happy hour, of course), you'll appreciate this G-Timeless watch from Gucci. Crafted with a steel case and featuring a white dial with planetarium decor, this casual but sleek timepiece is accentuated by a recycled nylon strap with an allover monogram motif and exudes a casually stylish vibe.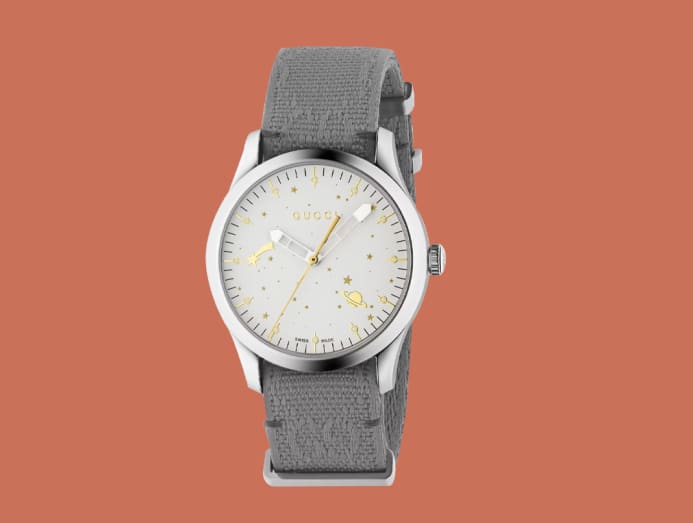 FANCY AND FOOTLOOSE
Whether you are traipsing along the boardwalks in the Maldives or Fiji, you won't go wrong with this sleek pair of Izmir sandals from Hermes. Crafted out of calfskin with the iconic "H" cut-out, this silhouette is an essential piece in every wardrobe, and pretty much pairs with any vacation outfit you can think of. If you need to upgrade your footwear for a nice dinner out, simply opt for this espadrille in grain calfskin with rope sole, also from Hermes. The breezy design allows you to be stylish without compromising comfort.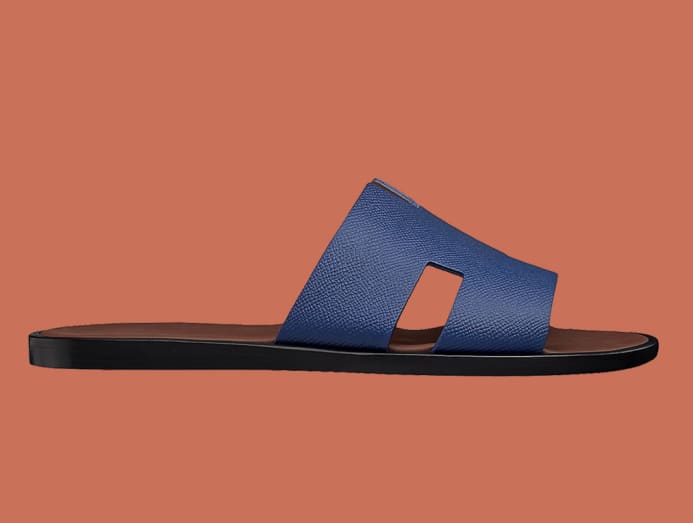 Ladies looking to indulge in extended strolls exploring the coastal cities of Galle or Sihanoukville followed by sessions on the beach will require feet-friendly and waterproof gear. And it is guaranteed that these featherweight Marshmallow flat mule sandals made of moulded rubber from Givenchy will be kind to your feet. The thick graphic sole adds some welcomed height, while the powder pink hue injects dollops of fun.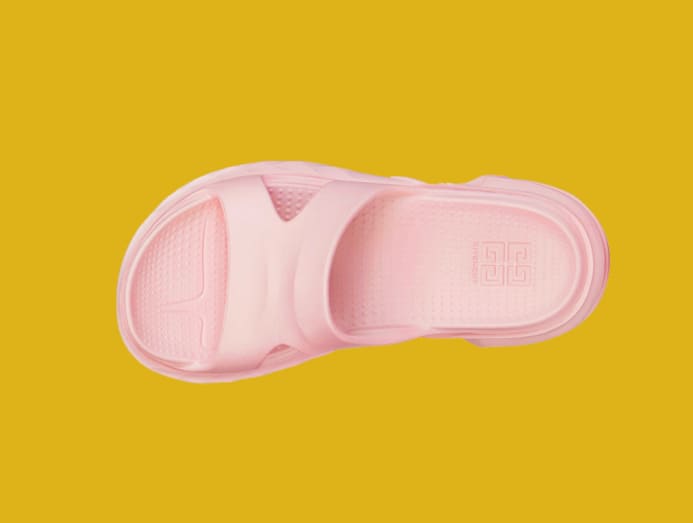 For a stylish night out, keep the pink (incidentally the colour most seen on runways this season) by pairing up your summer dress with this pair of grosgrain sandals from Chanel. The sleek straps lend a sophisticated air, and allow you to dress up your feet without confining them.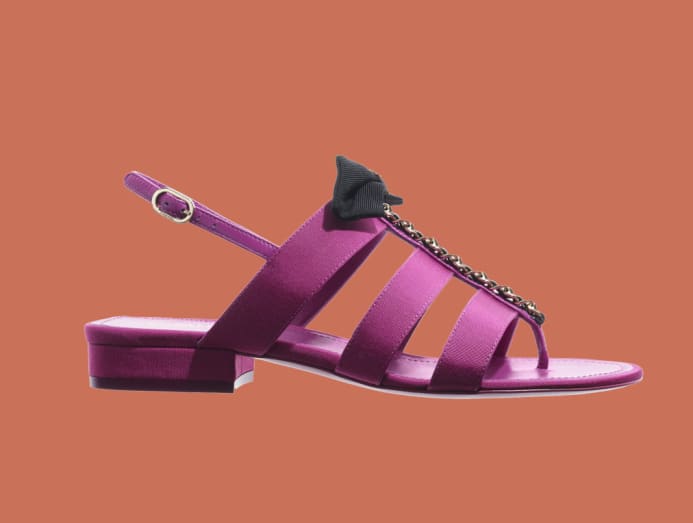 WANDERING WATERBODIES
There is no doubt that dips in the pool or sea will be the order of the day, so swim shorts are arguably the most important item to pack, and these turquoise monogram board shorts from Louis Vuitton are discreet without being boring. Tailored from embossed 3D monogram polyester fabric with a textured effect, they feature tone-on-tone eyelets and a signed palladium staple on the back.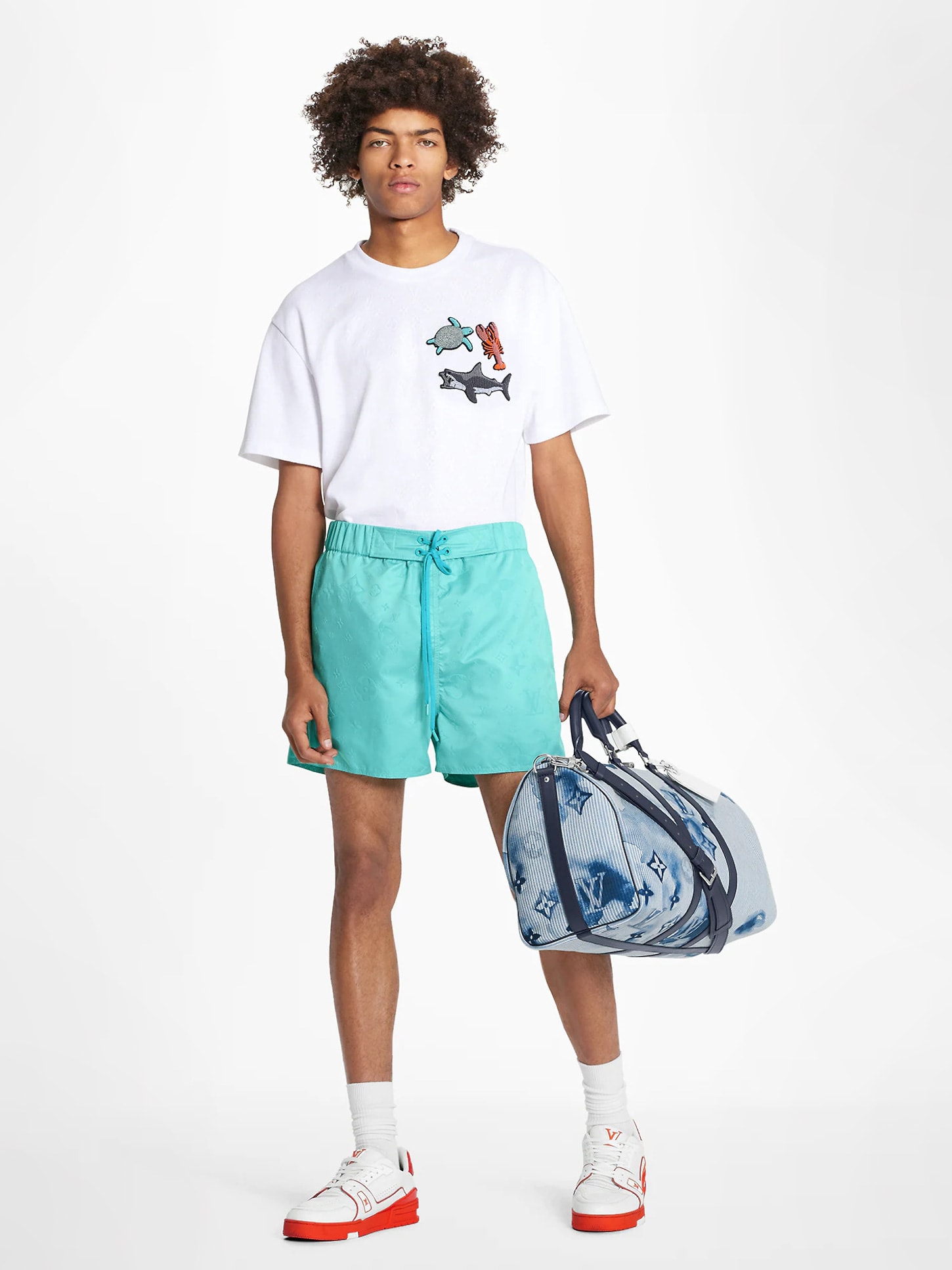 If you prefer to go bold (and why not while on holiday!), you'll love these swim shorts featuring one of the iconic camouflage prints of the season from Dolce & Gabbana. You'll find the side pockets and small zipped pocket on the back infinitely useful when you need some place to store your credit card when you're ordering drinks at the sunken bar inside the pool.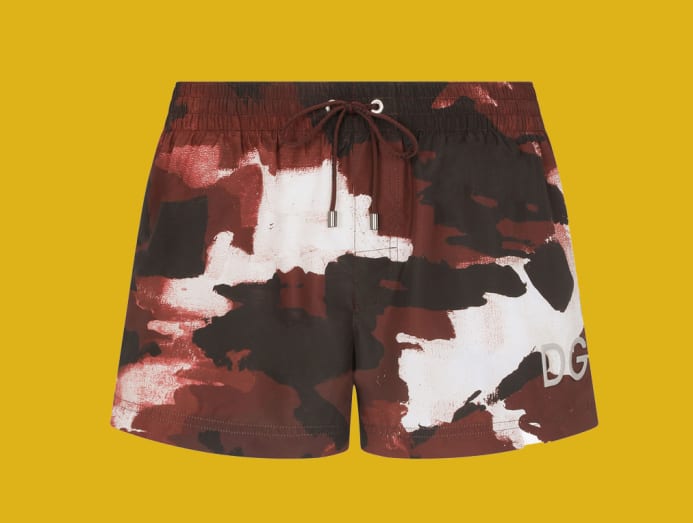 Meanwhile, keep the sun out of your eyes with Louis Vuitton's Escape sunglasses that have a black acetate frame and beautiful rose-tinted lenses. Fans of the brand will appreciate the signature touches, including the iconic Damier pattern on the front and the House's signature on the side.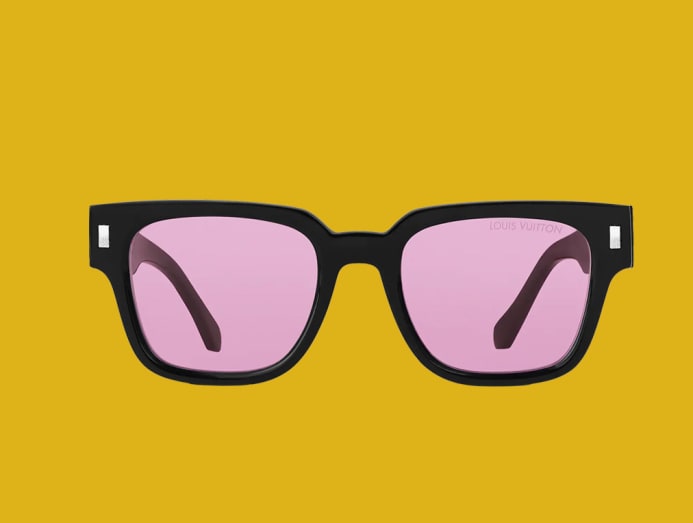 Ladies on the other hand can opt for this halter-neck triangle bikini from Burberry which is perfect for poolside lounging. This design features removable padded cups and exaggerated ties for a figure-sculpting fit.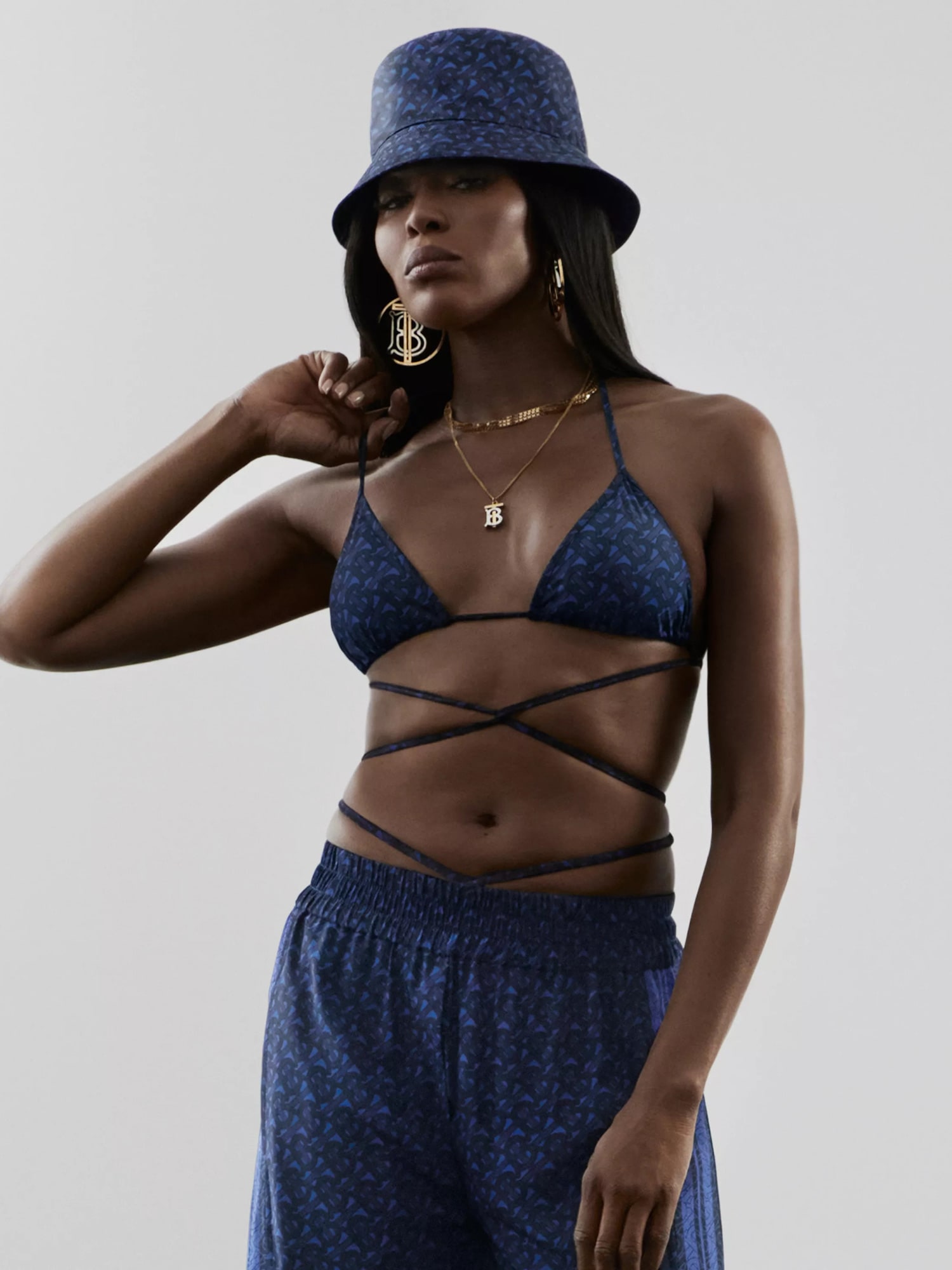 But should you be feeling a little bloated from your buffet breakfast, you can conceal the tummy with this understated one-piece V-neck swimsuit from Gucci. With a style reminiscent of the 70s, the subtle ivory hue is livened up by the sparkling stretch jersey and features the distinctive Double G hardware on a removable belt. Top off the look with this gorgeous pair of butterfly sunglasses from Chanel that carries a vintage vibe albeit in a modern interpretation.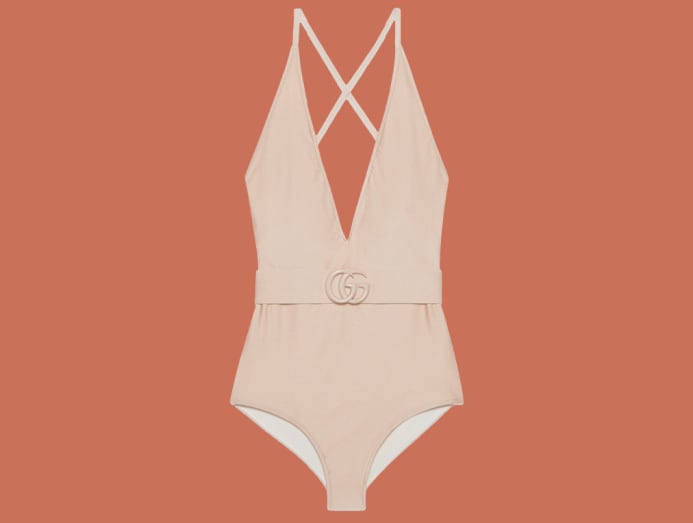 DANDY DAYTRIPPING
For days that you do venture out of the resort, a lightweight polo shirt is the perfect vacation staple because it doesn't look out of place whether on a beach, on a tuk-tuk or at a hip bar like Potatohead. Gucci's version in green stretch cotton piquet featuring a button-through placket is modern yet casual, and it has an Interlocking G patch that is complemented by a vintage-style contrast collar and sleeve cuffs.
If you're looking for something smarter for an evening out, you can't go wrong with a well-cut denim shirt. This short-sleeved version in a pale indigo blue from Louis Vuitton is tailored in a slightly loose fit, and specially washed for a faded effect. Pair it with this pair of pleated bermuda shorts from Dior, which showcases an elegant and slim silhouette that is both modern and timeless.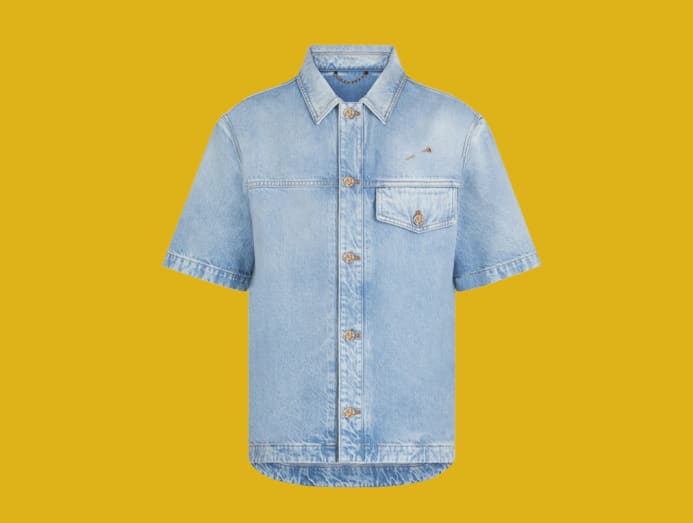 Or raise the style ante even further without compromising comfort with this pair of pleated trousers from Loewe's capsule with Paula's Ibiza. Made of lightweight linen and cotton toile in a sand hue, it comes with a removable herringbone belt and loads of louche attitude.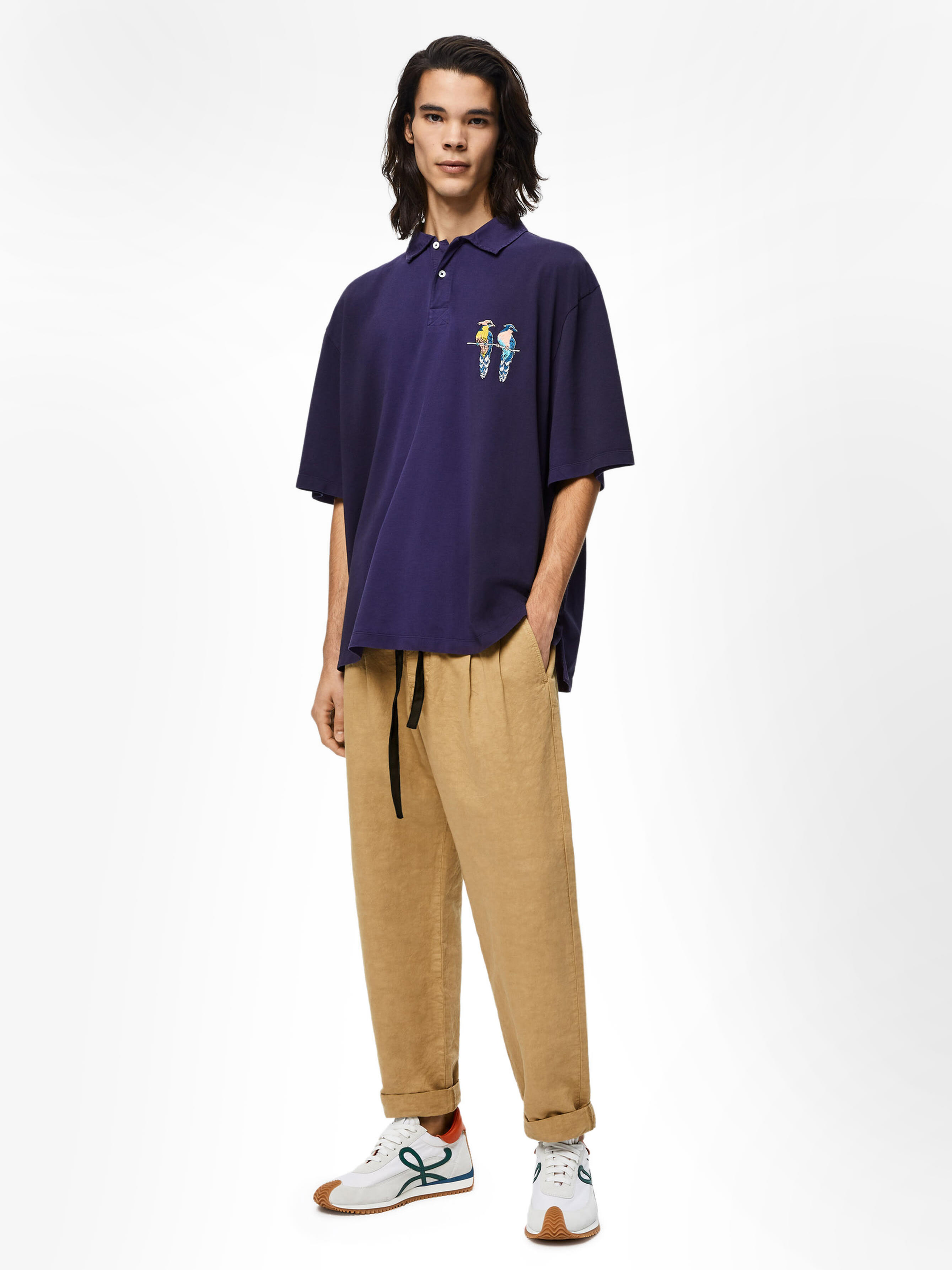 For the ladies, nothing is more important than feeling comfortable while on holiday. And this cinched balloon dress from Louis Vuitton couldn't be more perfect for exploring the colonial streets of Suva. An understated interpretation of a statement dress, it is cut from double wool crepe in a voluminous balloon silhouette that is exaggerated with a cinched hem. An essential chunky chain detail from the collection adds a sculptural embellishment to the neckline.
Equally light and comfy is this GG embroidered silk duchesse skirt from Gucci. From the Gucci Aria collection, familiar lingerie silhouettes are reimagined as unconventional ready-to-wear pieces, exploring the concept of fashion as a means of self-expression. Pair this daringly with a bralette for some breezy relief in the blazing heat.
For a special night out, put on this asymmetric midi dress in silk from Loewe. In cheery tones of beige and yellow, this loose-fit one sleeve midi dress has a gathered waistband at the back and side pockets for your ultimate comfort and convenience.