There's no doubt that the metaverse is the biggest trending topic across the blockchain industry right now. Dozens of metaverses are cropping up, promising different aesthetics, different experiences and most importantly different prospects for wealth building. As a leader of this charge, Decentraland (CCC:MANA-USD) has seen some of the most impressive gains of the last few months. Now, with the metaverse expected only to grow from here, Decentraland (MANA) price predictions are at the forefront of investor interest.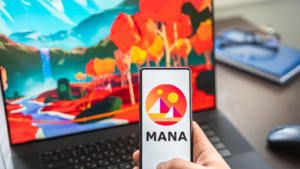 Source: Lichi / Shutterstock.com
Decentraland is exactly what one first imagines when they picture the metaverse; it's got the cartoonish avatars, games, immersive experiences and a wealth of digital property and non-fungible token (NFT) investments for its users to take advantage of. Indeed, since its launch in 2017, Decentraland has been one of the oldest and most robust blockchain metaverses out there.
While it has had plenty of room to grow in its first three years, 2021 has also been the kindest to Decentraland. Currently, MANA bulls are reflecting on the network's growth over the last 12 months and the figures are quite impressive.
In the last year alone, this network has seen a 3,300% growth in active users; this tally doesn't take into account visitors who do not have actively managed profiles, a demographic which makes up roughly 70% of the total Decentraland population at a given time. What's more, Decentraland created the first ever metaverse music festival, headlined by electronic music producer Deadmau5. It even struck up deals with Sotheby's and Samsung, which saw the two companies develop storefronts in the digital space. Most importantly, though, the MANA token saw a massive uptick. After beginning 2021 at just 8 cents per token, the crypto gained 7,300% to reach an all-time high of $5.90.
Decentraland (MANA) Price Predictions: What's Next for the Metaverse Leader?
Decentraland had a jaw-dropping 2021, but that doesn't mean 2022 will be a vacation year. The metaverse is only expected to grow from here. With gaming companies becoming more and more interested in the space, a lot of money is expected to flow into the space over the next 12 months.
Meanwhile, tech giants are pivoting toward the metaverse as well. Alphabet (NASDAQ:GOOG, NASDAQ:GOOGL) continues to develop its own operating system for augmented reality (AR) projects and Meta Platforms (NASDAQ:FB) already has its own metaverse at the ready.
As the industry continues to blow up, Decentraland should reap the benefits. After all, it's the largest metaverse crypto play in the world right now, with a market capitalization of around $5.5 billion. So, what's next for MANA? Let's take a look at some Decentraland (MANA) price predictions and see what analysts are thinking:
On the date of publication, Brenden Rearick did not hold (either directly or indirectly) any positions in the securities mentioned in this article. The opinions expressed in this article are those of the writer, subject to the InvestorPlace.com Publishing Guidelines.