We'll be in for a weekend of change, and it will be obvious when it hits, as winds should be pretty gusty behind tomorrow's cold front. That said, this will be pretty typical for a Houston winter weekend, and much of the forecast ahead will resemble a fairly typical winter here. For those of you running the Houston Marathon (or the half or 5k) this weekend, first off, good luck! Secondly, the winds on Sunday, while not as bad as tomorrow afternoon, will certainly come with some bite. With a 15 to 20 mph northwest wind and temperatures in the 30s on Sunday morning, it will feel like it's in the 20s to start the race.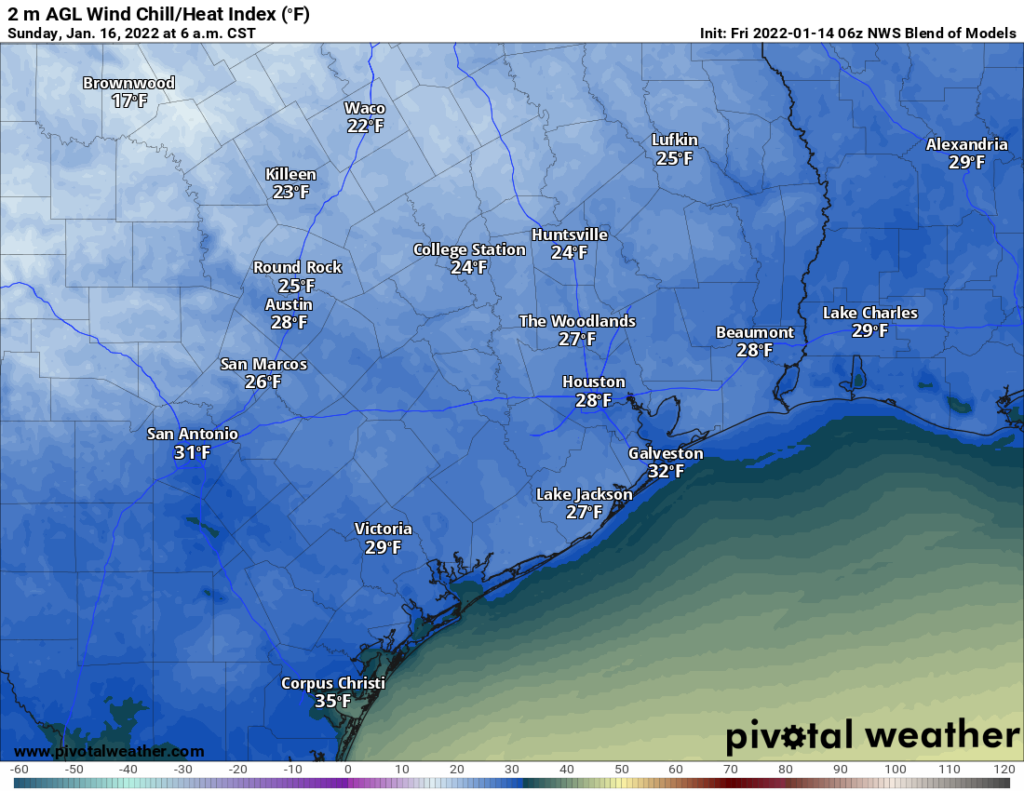 Thankfully, as temperatures warm up through the morning, the wind should slowly back down. By 10 AM, winds will be back down around 15 mph with temperatures in the 40s, making it feel more like the mid to upper-30s. It should be mainly sunny for the race, so at least you'll have that.
Today
Before we get to Sunday, we have to get through today and tomorrow. Look for a warm one with sunshine for Friday and highs in the low, maybe mid-70s. There is some patchy fog along the coastal plain this morning, mainly south of Houston, so if your travels take you down 288 into Brazoria County or toward Matagorda County, just be aware of that through about 9 or 10 AM.
Saturday
Tomorrow's cold front should pass through the region in the early morning hours, probably around or just before sunrise. Look for a sharp wind shift with sustained winds of 20 to 30 mph and some higher gusts.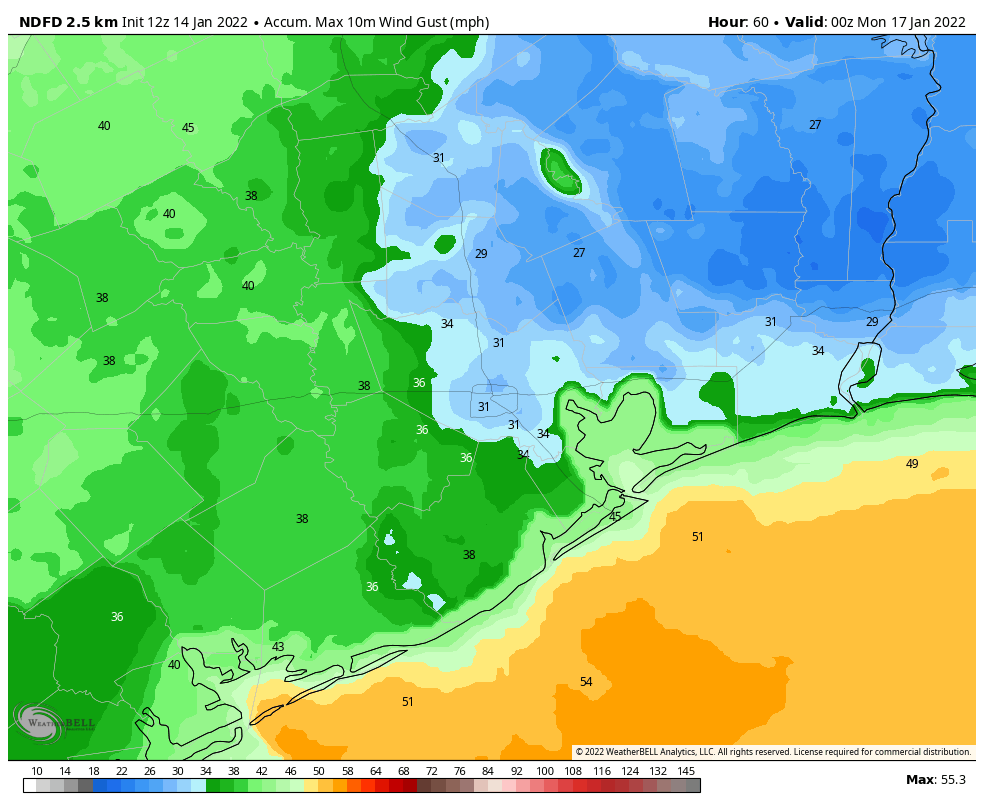 This shouldn't be widespread power outage stuff, but you might see a few reports of brief outages due to wind. Winds will be gustier along the coast, so Galveston and communities along Galveston Bay could see gusts of 40 mph or so.
Along with the winds will come falling temperatures. Saturday's high will be achieved around daybreak, with temperatures falling through the 50s and into the 40s on Saturday morning. We'll level off some for afternoon and maybe even warm back up a tick or two.
This front will come with limited ability to produce storms, so look for perhaps a broken area of showers in the early morning, mainly south and east of Houston. Most areas are unlikely to see measurable rainfall.
Sunday
As noted at the top, it will be cold on Sunday morning with 30s in most spots. A light freeze is a good bet outside the metro area, but the wind will actually help prevent that from being too widespread. Places like Conroe or Navasota or Cleveland or Brookshire could still see lows get close to freezing for a couple hours. Everyone else should see mid to upper-30s with that breeze. The day should be nicer with highs into the 50s and ample sunshine.
Early next week
Look for quiet weather on Monday and Tuesday. Most places will be back in the 30s on Monday morning, but a freeze is unlikely in most spots. With sunshine, we'll warm into the 60s for the Martin Luther King Jr. Day holiday. Onshore flow resumes on Tuesday, allowing us to slowly warm, so expect lows in the 40s in the morning, warming into the 70s in the afternoon. Our next front is penciled in for Wednesday.
Late next week
Look for a fairly unsettled weather pattern to take hold for Thursday and Friday, which could lead to some rain across the area, perhaps focused mainly on the southern half of the region. Temperatures will likely stay cool behind Wednesday's front, with perhaps a reinforcing front next weekend to usher in some even colder air by Sunday or Monday. Again, there is no realistic sign of any kind of massive cold outbreak or deep freeze (the pattern setting up over North America next week favors the strongest cold relative to normal to aim at places like Buffalo, Chicago, and Minneapolis right now, not the Plains/Texas). But it will likely be chilly regardless, and there will probably be more than one opportunity for a night of below freezing temperatures in Houston.
Speaking of Buffalo, if you'll be watching the Bills/Pats game this weekend, it's going to be a brutal one in Orchard Park. Saturday evening's kickoff temperature should be about 5 degrees, give or take.
More for you Monday!