March 7, 2022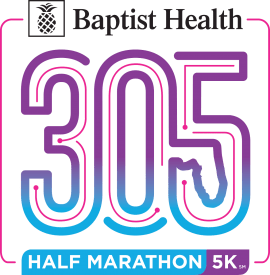 MIAMI, Fla., Mar. 6, 2022/ENDURANCE SPORTSWIRE/ – More than 3,200 runners hit the pavement today at the Baptist Health 305 Half Marathon and "305K", owned and produced by Life Time. As a fast follow to the Miami Marathon, which is also produced by Life Time, the 305 Half offers runners the opportunity to experience the streets of Miami and Miami Beach on a more intimate scale. Runners came from 32 states and 35 countries to experience the fast and flat course which took them down South Beach, over the McArthur Causeway, north through Wynwood, and back across the Julia Tuttle Causeway.
Half marathon female winners:
Arianna Russo, 28, Miami, Fla., 1:31:29
Piper Francis, 26, Miami, Fla., 1:31:47
Stephani Pi, 36, Miami, Fla., 1:32:58
Half marathon male winners:
Michael Palmer, 32, Chicago, Ill., 1:15:38
Jeand Duno, 34, Miami Beach, Fla., 1:16:51
Elliott mason, 43, Miami, Fla., 1:19:35
Louis Ocarroll, 41, of Guaruja, Brazil placed first in the non-binary category with a time of 1:44:12.
"We're so happy to welcome runners back for the Baptist Health 305 Half and 305K today," said Frankie Ruiz, Chief Running Officer at Life Time and Chief Wellness Officer for the City of Miami. "This event has an energy all its own and everyone came out to enjoy themselves and the sport. It's a great way to keep the 305 Day energy flowing."
The weekend culminated the 'Unlock Miami' theme Life Time started in 2021, when medals for Life Time's alternative events in Miami were key shaped. A year later, this year's participants received the corresponding lock.
The 305 Half Marathon and 5K is owned and produced by Life Time, the nation's premier healthy lifestyle brand. It is among more than 30 premier athletic events owned by the company, including the New York City Triathlon, Leadville Race Series, and Miami Marathon.
Life Time opened its Goral Gables village, complete with its premium athletic resort, Life Time Work, and Life Time Stay facilities in August 2021 and is set to open athletic resort destinations in Palm Beach Gardens in Spring 2022 and Miami at the Falls in 2023.
About Life Time® – Healthy Way of Life
Over nearly 30 years, Life Time has reshaped the way consumers approach their health through omnichannel, healthy way of life communities that address all aspects of healthy living, healthy aging and healthy entertainment. More than 30,000 Life Time professionals are dedicated to providing the best programs and experiences at more than 155 Life Time athletic resort destinations in the United States and Canada, and via a complementary, comprehensive digital platform and portfolio of iconic athletic events – all with the objective of inspiring healthier, happier lives. For more information visit lifetime.life.